Postings Volume 80 (2020/2021) Is Now Available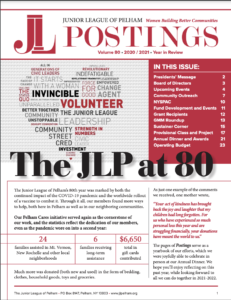 The Postings Magazine, our recap of the Junior League of Pelham's accomplishments over the past year, is now available! This issue celebrates our 80th year of serving the local community, our twenty-three new members that joined us during the COVID-19 Pandemic, and many more accomplishments from the 2020-2021 Junior League year.
Please take a few minutes to look back and relish in all our hard work over the past year.
An enormous thank you to everyone who worked on this issue of Postings. It is a tremendous undertaking and we are grateful to have a record of all the League's accomplishments.