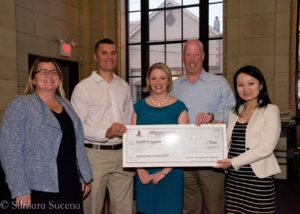 Every year the Junior League of Pelham distributes up to $5,000 to community programs and projects in Pelham and surrounding communities that address our focus areas of healthy families, education and Pelham improvement. Following are recent grant recipients. If you are interested in applying for a grant, please click here for our Community Grants Guidelines.
2020 Junior League of Pelham Grant Recipients
The Community Affairs Committee is very pleased and excited to announce our 2020 Grant Recipients. All organizations will direct grant proceeds towards improving the lives and health of families, promoting education and/or enriching Pelham or neighboring communities. Thank you to all of the organizations that applied and congratulations to our grant recipients!
The Baby Bank of Westchester is a not-for-profit organization aimed to support neighbors in the community who struggle to meet basic needs such as food, clothing, shelter, medical care, and education.  
The $1,000 JLP grant was able to fund over 4,000 diapers to local at-risk babies.
Hope's Door is a not-for-profit which seeks to end domestic violence and empower victims to achieve safety, independence, and healing from the trauma of abuse.  The $1,250 JLP grant provided funding toward their Next Step Fund, which gives domestic abuse victims access to vocational/educational training, money for licenses, etc.
The Ladies of Charity of the Pelhams is a not-for-profit primarily devoted to women and
children's causes, namely to provide knit and crocheted blankets and other textiles to babies born to young mothers in need.  The $500 JLP grant will provide funding for the yarn needed for ongoing community needs.
The Pelham Art Center is a not-for-profit educational and cultural institution committed to providing public access to see, study, and experience the arts, foster lifelong arts appreciation, and thereby strengthen the community.  The $750 JLP grant provided funding for sustaining art programs.
Pelham Together is a not-for-profit community coalition aimed to create a vibrant and healthy community for and with the youth of Pelham.  The $1,500 JLP grant will fund the training needed to become certified trainers of Youth Mental Health First Aid, which teaches the warning signs and the risk factors of mental health challenges among adolescents.
Songcatchers is a not-for-profit that provides affordable access to high quality music education to low income children ages 1.5-13.  The $500 JLP grant provided funding for 2 new violins.
Women's Enterprise Development Center is a not-for-profit micro-enterprise development program formed to help women achieve economic self-sufficiency through small business development.  The $1,000 JLP grant provided funding for the training and marketing for two workshops aimed at local small business owners.
Past Grant Recipients
2019 Recipients
Friends of Highbrook Highline
Hearts and Homes for Refugees
My Sister's Place
New Rochelle YMCA
Pelham Art Center
Pelham Chamber of Commerce
Pelham Children's Center
2018 Recipients
Amani Public Charter School
Girl Scout Troop 1662
My Sisters Place
New Rochelle YMCA
The Wartburg Organization
Pelham PACT
Ladies of Charity of the Pelhams
2017 Recipients
Cancer Support Team
Project Community Inc.
Pelham Children's Center
Manor Club
Siwanoy School PTA
Pelham Art Center
Ladies of Charity of the Pelhams
2016 Recipients
Bereavement Center of Westchester
DARE
Manor Club
Pelham Art Center
Ladies of Charity of the Pelhams
2015 Recipients
Young Life Lower Westchester
The Wartburg Home
The Picture House
EcoPel
New Rochelle YMCA
Ladies of Charity of the Pelhams
2014 Recipients
Pelham Children's Center
EcoPel
Pelham Art Center
Hutchinson Elementary School PTA
Ladies of Charity of the Pelhams
2013 Recipients
Pelham Public Library Friends
Girls Inc. Westchester
Pelham Art Center
The Picture House
Ladies of Charity of the Pelhams