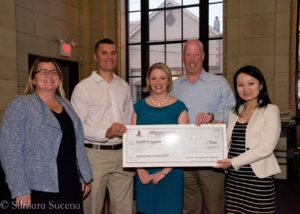 Every year the Junior League of Pelham distributes up to $5,000 to community programs and projects in Pelham and surrounding communities that address our focus areas of healthy families, education and Pelham improvement. Following are recent grant recipients. If you are interested in applying for a grant, please click here for our Community Grants Guidelines.
2022 Junior League of Pelham Grant Recipients
The Community Affairs Committee is very pleased and excited to announce our 2022 Grant Recipients. All organizations will direct grant proceeds towards improving the lives and health of families, promoting education and/or enriching Pelham or neighboring communities. Thank you to all of the organizations that applied and congratulations to our grant recipients!
The following organizations applied for and have been awarded a
2022 Junior League of Pelham 

Grant
:
Hope's Door
WESTCop
Songcatchers
Hearts & Homes
Pelham Together
CSA
(914)Cares
Cancer Support
Pelham Ladies of Charity
Family Services of Westchester
and Keeping Communities Safe
Additional
recipients
 from the 
Pelham Cares Fund
:
Women's Enterprise Development Center
Bereavement Center of Westchester
Amani Charter School
Sharing Shelf
Past Grant Recipients
2020 Recipients
The Baby Bank of Westchester
Hope's Door
The Ladies of Charity of the Pelhams
The Pelham Art Center
Pelham Together
Songcatchers
Women's Enterprise Development Center
2019 Recipients
Friends of Highbrook Highline
Hearts and Homes for Refugees
My Sister's Place
New Rochelle YMCA
Pelham Art Center
Pelham Chamber of Commerce
Pelham Children's Center
2018 Recipients
Amani Public Charter School
Girl Scout Troop 1662
My Sisters Place
New Rochelle YMCA
The Wartburg Organization
Pelham PACT
Ladies of Charity of the Pelhams
2017 Recipients
Cancer Support Team
Project Community Inc.
Pelham Children's Center
Manor Club
Siwanoy School PTA
Pelham Art Center
Ladies of Charity of the Pelhams
2016 Recipients
Bereavement Center of Westchester
DARE
Manor Club
Pelham Art Center
Ladies of Charity of the Pelhams
2015 Recipients
Young Life Lower Westchester
The Wartburg Home
The Picture House
EcoPel
New Rochelle YMCA
Ladies of Charity of the Pelhams
2014 Recipients
Pelham Children's Center
EcoPel
Pelham Art Center
Hutchinson Elementary School PTA
Ladies of Charity of the Pelhams
2013 Recipients
Pelham Public Library Friends
Girls Inc. Westchester
Pelham Art Center
The Picture House
Ladies of Charity of the Pelhams