2022-2023 Community Roundtable Recap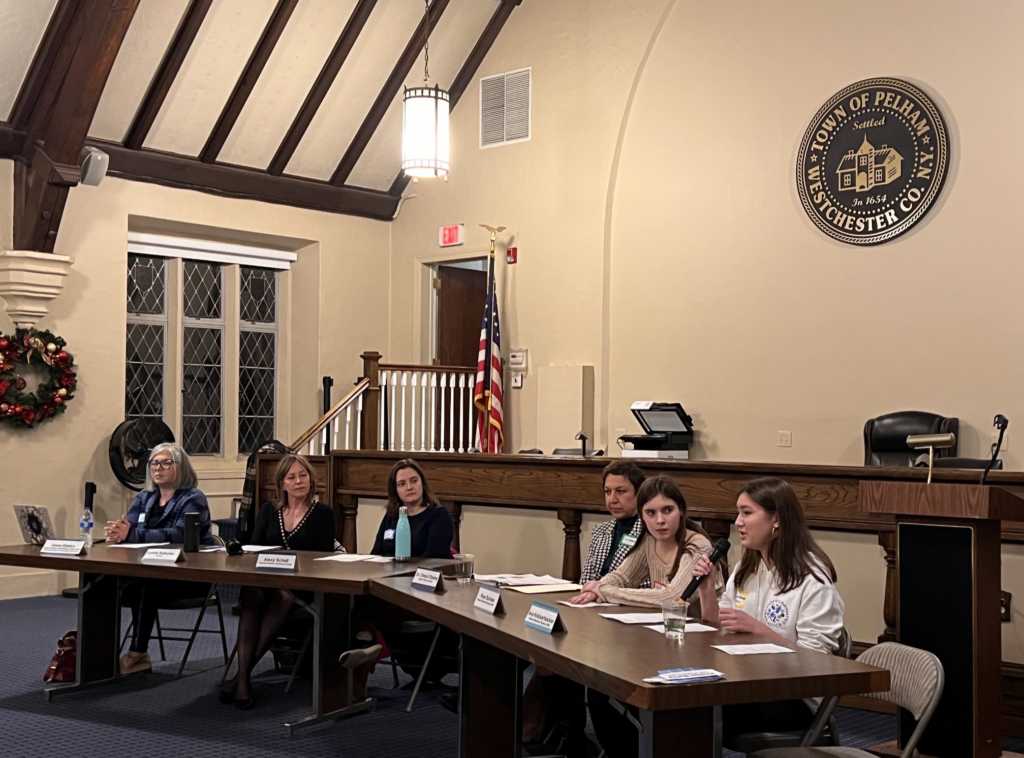 2022-2023 COMMUNITY ROUNDTABLE RECAP
November 29, 2022, 7-9pm, Daronco Town House
---
The Junior League's 2022-2023 Community Roundtable aimed to foster dialogue and strengthen community knowledge, connections, and action in support of environmental sustainability* and climate resilience** in Pelham.  
The event was opened with a greeting from the Junior League of Pelham members, Kate Keating and Allison Anderson (Community Affairs Committee).  It was then moderated by JLP Sustainer, Melissa Mulrooney Deighton.
Roundtable SPEAKERS included:
Speakers were asked to address the following QUESTIONS:
Scholl: Experienced flood damage firsthand and faced major challenges. Started Facebook group Flooded Pelham to share information between affected homeowners and advocate together to have a greater impact. The group now has 260+ members. Worked to bring in agencies for better storm water management such as NYS Thruway Authority and NYC Parks Department. The group may also be contacted at

floodedpelham@gmail.com

. Opportunities for improving the support of those affected by flooding include community members working together as a unified front, local governments sharing information and popularizing helpful green infrastructure programs.
Eldhary: VoP has worked to achieve Climate Smart Communities Bronze level certification which makes it a leader in NYS local government climate action (3400 local governments in NYS; only 91 have the certification). Certification gives access to grants. It accomplished this by creating a CSC Task Force, implementing its food scraps recycling program, installing 5 EV chargers, establishing a Healthy Yards program, implementing sustainable DPW practices, energy code enforcement, installing LED lights throughout VoP, sharing information about heat pumps, etc. Challenges facing efforts include getting more properties to sign onto its programs, funding. Hopes to expand partnerships with schools and Pelham Manor.
Raihofer: EcoPel is a volunteer-run organization that has worked with partners to bring programs like food scraps, Healthy Yards, native plantings, and the Earth Day Festival to Pelham. Identified gaps/goals include expanding programming to elementary schools; working more with Girl Scouts and Boy Scouts; need for more volunteers. Contact is ecopel10803@gmail.com.
Champ: Dr. Tom Callahan, Director of Math & Science, is responsible for integrating sustainability into the PUFSD curriculum. At the elementary school level, the Science 21 curriculum has been phased in and includes study of ecosystems, weather, climate, energy, etc. There is a partnership with Veolia. The new Hutchinson School was built with sustainability in mind including top energy efficiency technology, LED smart lighting, insulation, a cistern that collects rainwater to water the grounds. It will eventually include an outdoor classroom, kitchen garden, and 2 EV charging stations. The other schools are more challenging to refit due to their age. Covid sidetracked many of the district's sustainability initiatives and they are trying to get them back on track now. There is composting in the cafeteria and they hope to have reusable dishware soon. Landscaping is done for simplicity and safety but can be improved.
Durham & Knickerbocker: Durham is a founding member of PEP and has been since 5th grade. She is passionate about environmental issues and sustainable design. Knickerbocker is a PMHS senior and actions lead at The Sunrise Movement's Westchester Hub.  She is also involved in larger-scale efforts as the founder of Youth Climate Save New York and Global Affairs Director at the nonprofit, Youth Climate Action Team Inc. Local PEP achievements include paper bags in Decicco's and paper bottles in the school cafeteria. PEP is launching a Keep Wolfs Lane Park Clean initiative. PEP partners with the school environmental sciences club and EcoPel. It hopes to partner more with younger students at the elementary school level, reduce school supply waste, and implement plant-based lunch options.
ADDITIONAL Questions and discussion points from the community:  
CLOSING remarks and reflections from local elected officials: 
Mayor Chance Mullen, Village of Pelham: VoP is investing in flood mitigation and energy efficiency initiatives. 
Mayor Jennifer Lapey, Village of Pelham Manor (VoPM) and Village Manager John Pierpont: VoPM offers community mulch from its yard waste collections through a public/private partnership. It, along with most other Westchester municipalities, also sends its trash to the Wheelabrator Dutchess County, an incinerator that turns burned trash into reusable fuels. Solar panels are installed on the roof of BJ's in VoPM and they produce power. VoPM has spent $1.5M to reline its sanitary sewers. It is working on an All Hazards Mitigation Plan. VoPM passed a leaf blower law that limits usage for Tuesday-Saturday during peak times of year. VoPM participates in a NYS program which gives a free tree for each tree purchased. 
Kristen Burke, Town of Pelham Council: New vehicles are hybrid, there are many green projects including Healthy Yards, LED lighting, and low-interest loans for green upgrades. Town will also take what they have learned tonight and apply to future projects such as porous paving to prevent flooding, and native plantings on Town property.
ACTION/Follow-up
JLP will take the lead on organizing follow-up sessions on this topic with the community to spur action. JLP has committed to collaborating with EcoPel in the town's earth day celebration in April and we hope that Earth Day can serve as a touch stone for actions discussed here tonight. Resources are a big part of this. JLP makes community grants annually– again in 2023 – for community programs and projects in Pelham and surrounding communities to improve the lives and health of families, promote education and/or enrich our and neighboring communities. We very much welcome applications from non-profit organizations on this theme. 
KEY TERMS
*Sustainability: the ability to meet the needs of the present without depleting natural resources for the future. 
**Climate resilience: the ability to prepare for, recover from, and adapt to hazardous events or trends related to climate (e.g. flooding, heat waves, drought).
---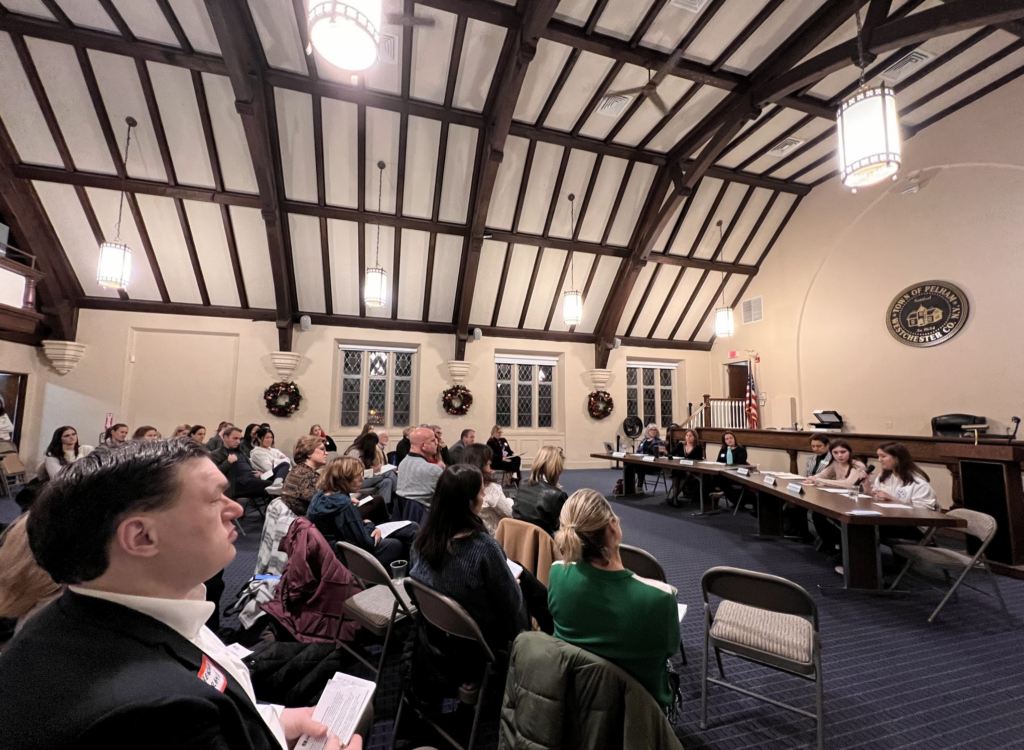 The Junior League would like to thank event moderator– and JLP Sustainer Representative and President Emeritus– Melissa Mulrooney Deighton; JLP Community Affairs Committee members Allison Anderson, Ali Cox, Allison Frost, Salli Garrigan, and Rachel Tulchin; and JLP Community Outreach Vice President, Kate Keating for their organization of this event.