Outstanding Woman of Pelham – March 26, 2018
All month long, we'll be celebrating the accomplishments of women in our community with the 'Outstanding Women of Pelham' Project, which seeks to recognize women who are outstanding members of our community. All of the women honored with the award—which will be announced each day throughout the month of March—have put ideas into action, stood up for those who are less powerful, pitched in passionately in support of a project or cause and have made Pelham the community it is today.
March 26, 2018 – Paula McKeever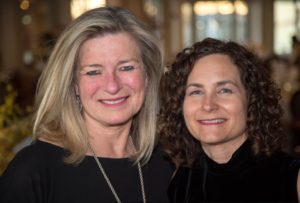 Paula has a been a consistent champion of the arts community in Pelham, serving on the Board of the Pelham Art Center as well as on the Board of Pelham Children's Theater. In both capacities, she has channeled her keen eye for design and her flair for creativity into a tangible benefit for these organizations, and for the broader community. As a sustainer, she has remained an active participant in the League, serving as sustainer-at-large and continuing to attend League events and activities. Paula's enthusiasm for the arts is contagious, and in lending her talents to everything from the Colonial Kindergarten play to countless PCT productions, Paula has truly made an impact on the lives of young people throughout town.