Outstanding Woman of Pelham – March 22, 2018
All month long, we'll be celebrating the accomplishments of women in our community with the 'Outstanding Women of Pelham' Project, which seeks to recognize women who are outstanding members of our community. All of the women honored with the award—which will be announced each day throughout the month of March—have put ideas into action, stood up for those who are less powerful, pitched in passionately in support of a project or cause and have made Pelham the community it is today.
March 22, 2018 – Tyson Newton Stephens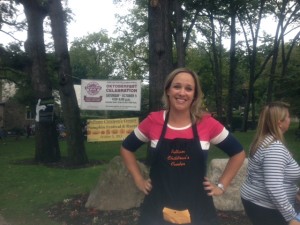 If the Junior League of Pelham had a mascot, it would be Tyson. For years, she has championed the League with warmth, positivity and a can-do attitude, and in the process,  built bridges between the League and other organizations in town. Throughout her time as an active member, she has both held visible leadership positions–including President–and done more than her share of behind-the-scenes work–organizing the gala, training provisionals, marching in parades, manning tables. For so many of us, Tyson was our introduction to the League and she has consistently set a tone of inclusion, service and best of all–fun.  The League–and indeed, the greater Pelham community–would not be the same without Tyson.