Oktoberfest 2016 is a wrap!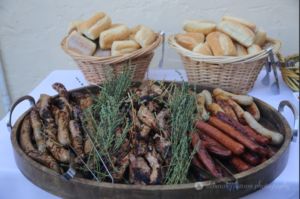 The Junior League of Pelham held its 4th annual Oktoberfest Celebration on Saturday, October 15. Nearly 150 Pelhamites and friends came out to eat, drink and support this great town tradition. Also in attendance were New York State Senator Jeffrey Klein, who is up for re-election in November, and New York State Assemblywoman Amy Paulin. The parking lot outside the Fisherman's Net was transformed into Pelham's very own German festhaus – with Depot Dave grilling up a delectable spread of German delights, the Net's wonderful staff filling stein after stein of Oktoberfest brew and DJ Cutz piping in festive tunes. Aside from the usual Oktoberfest merriment, event goers paired up in teams of two and competed in the 2nd annual beer pong tournament.  While the event was slated to end at 8pm, the tournament went well into the evening, with the last two teams vying for the highly coveted beer pong trophy, as well as the generous gift basket donated by DeCicco's. Guests departed with full bellies, empty steins, new friends and smiles from ear to ear. What a great way to kick-off fall in Pelham!
All proceeds from the Oktoberfest Celebration go to support the Junior League of Pelham's outreach programs aimed at improving the lives of families, and promoting the enrichment of Pelham and neighboring communities. The Junior League of Pelham would like to thank everyone who came out to support the League to make Oktoberfest a success once again. Special thanks to Meridian Risk Management and Joan Solimine Real Estate for their Platinum sponsorship. Additional thanks to Richie and The Fisherman's Net, Depot Dave, OnPoint Image & Design, and DeCicco's. Until next year!