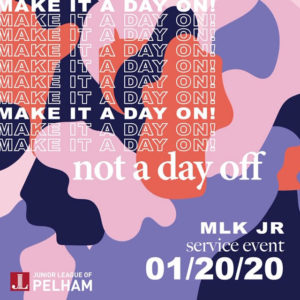 On Monday, January 20th, the Junior League of Pelham will hold its 3rd annual Martin Luther King Jr. Service Event. The event will take place from 10:00 a.m. to 2:00 p.m. at the Daronco Town House, 20 Fifth Ave, Pelham, NY.
In continuing to reinforce the vision that MLK Jr. Day is "not just a day off, but a day of service," the event will provide on-site opportunities to participate in a variety of handson service activities that will directly impact children in need.
Through our partnership with Bella's Birthday Box, an organization whose mission is to celebrate every child's birthday regardless of their housing situation, event attendees will have the opportunity to create cards and decorations. Other activities will include assembling emergency shelter blankets for My Sisters' Place, who strives to end domestic violence and human trafficking, as well as assembling activity kits for patients at Maria Fareri Children's Hospital.
Please consider bringing birthday-themed party essentials (plates, cups, hats, etc.) as well as coloring books, crayons, and markers for donation.
Additional activities and local nonprofit organizations will be available on-site to present future volunteer opportunities.
Please save the date and join us on January 20th to see how you and your family can make a difference in your local community.