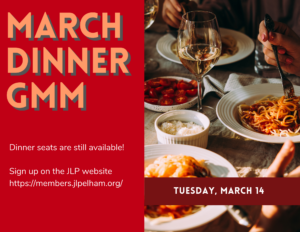 Every March, Junior League of Pelham skips its large monthly general membership meeting and instead holds intimate but casual  dinners in members' homes.
The night is devoted to getting to know one another and talking more deeply about local topics of concern.  It is always one of the most special nights of the year.
Dinners will be held at 7: 30 p.m. Tuesday March 14, and there is still  time to sign up!
Spaces are still available at the homes of:
Also hosting will be Jennifer Turner and Amy Platt.
Just follow the links to sign up. Email angelaekang@gmail.com for any questions. See you there!