JLP Presents "Cloudy With a Chance of Meatballs"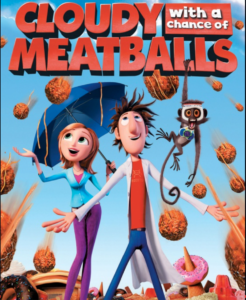 Look out! 
The Junior League of Pelham Junior Scientists, working with the Pelham Education Foundation and The Pelham Union Free School District, presents a free showing of "Cloudy with a Chance of Meatballs" at 4 p.m., Oct. 18th, at the Picture House in Pelham. 
This 2009 animated film tells the story of an aspiring scientist, Flint Lockwood, who invents a machine that converts water into food. Of course, not everything goes according to plan! Voiced by Bill Hader,  Anna Faris, Andy Samberg and others, this story can get kids excited and a little curious about the power of science. 
"The process of science is just as important as the result.  As we think about the [schools'] Pelham Inquiry Cycle we can draw parallels with Flint's inventing process.  Most of his inventions didn't work the first time, but, he never gave up until he succeeded," said Kim Riegel, founder of the Junior League of Scientists. 
This event is free but space is limited so sign up now. This movie is PG and parents should accompany children under 16. It has a run time of 90 minutes. 
Catch a preview here: https://www.youtube.com/watch?v=pUaKcFI4BZY
To reserve tickets, visit: https://www.eventbrite.com/e/cloudy-with-a-chance-of-meatballs-tickets-422622123147