JLP Awards 2016 Community Grants to Five Deserving Organizations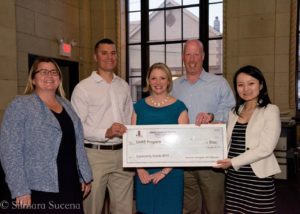 As part of its annual grants program, the Junior League of Pelham (JLP) has once again awarded a total of $5,000 in grants to organizations that share its mission of promoting education, healthy families, and a better living environment for the Pelham community.
These organizations were honored during an awards ceremony on Tuesday, April 19, to recognize the beneficiaries and have them share their organization's goals and programs with JLP membership. JLP President Melissa Mulrooney Deighton, Community Outreach Co-VP Liz Perreten, and Community and Public Affairs Co-Chair Sharon Mau were present to honor five dynamic organizations:
Bereavement Center of Westchester is an organization providing support for children, teens and families as they grieve the loss of a loved one. The JLP provided $1,500 in grants to support the Bereavement Center in their efforts to support families, including 7 local residents of Pelham.
DARE is a not-for profit program targeting school-aged children, aiming to keep them off drugs and avoid violence and bullying. The JLP's grant of $500 provides funding for program supplies which are vital to educate and empower children.
Ladies of Charity of the Pelhams is devoted to women's and children's causes. This group knits crochets handmade mittens, blankets, and other items, and distributes them to children in need. The JLP's grant of $500 will be used to buy yarn and fabric.
Manor Club is an organization which fosters interest in and promotes charitable, education, literacy, and cultural activities in Pelham. The JLP provided $1,000 in grants to support a two-part symposium this May in partnership with the Women's Empowerment Group at Pelham High School to address and educate on the issues of "Safety on College Campus" and "What is Consent."
Pelham Art Center is an organization dedicated to providing local families quality exposure to the arts. The Pelham Art Center received a grant of $1,500 to support and expand dozens of ongoing art enrichment classes, many of which are free and open to the public.
The JLP is proud to support these five deserving organizations who are dedicated to providing our community with valuable services and resources.