Congratulations to our 2021 Annual Award Winners!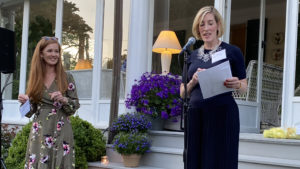 ANNUAL AWARD WINNERS
At last month's Annual Dinner, we presented our annual Scholarship and Member Recognition Awards to four deserving women.
The President's Award is awarded to CAROLINE SPANA. While there was a strong pool of women who demonstrated excellent community service, the JLP Executive Committee was particularly impressed by the depth and breadth of Caroline's projects throughout all four of her high school years. Her leadership as a Girl Scout across a wide range of projects coupled with her volunteerism with the Eagle Scouts, Pelham Together and EcoPel and participation in organizations such as the Mental Health Awareness Club aligns with the Junior League of Pelham's mission.
The First Year Active Award is awarded to JESSICA DORAN. As a first year Active, Jessica stepped into a particularly challenging role of Treasurer and knocked it out of the park. In a year when fundraising was cut to a minimum and partner organizations needed so much, she was able to help us model our options, ensuring that we gave as much as possible back to the community while keeping the Junior League financially sound. Her attention to detail, financial insights, and creativity were extremely valuable.  Plus Jessica is just a pleasure to work with! The Junior League is lucky to have her in this role and we are grateful for her contributions!
The Elizabeth I. Junod Award is awarded to LEAH TAHBAZ. We honor a woman who has been an involved Pelham parent since 2003.  Serving on several local Boards, including the Junior League, the Pelham Children's Center, the Pelham Education Foundation, the Community Care Center and as President of the PTA Council, Leah has kept a close eye on all of Pelham's youth, while also raising four of her own. She is currently a member of the Pelham Board of Education, as well as the Executive Board of Pelham Together.
The Volunteer of the Year Award is awarded to ERICA WINTER. In a year when we welcomed so many new neighbors to Pelham under the most challenging of situations, the Junior League was able to play a role in providing opportunities for people to connect with one another and make an impact in the community.   That's in large part due to the work of Erica, whose warmth and inclusiveness welcomed this year's large and most diverse new member class. She revamped our New Member onboarding process to ensure it is inclusive and welcoming to all members of the community. In addition to her JLP duties, Erica also worked in a sensitive, critical role during the COVID 19 pandemic, helping local health departments contact trace to reduce community spread, while also giving volunteer time to Feeding Westchester and other organizations.