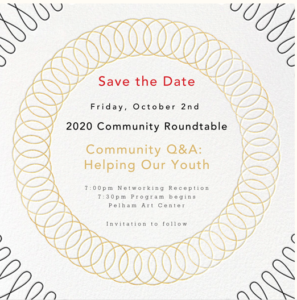 UPCOMING COMMUNITY ROUNDTABLE: OCTOBER 2, 7:30pm
The Junior League of Pelham is very pleased to announce its upcoming annual Community Roundtable on Friday, October 2nd. This live-streamed event will feature panelists Laura Caruso from Pelham Together, Will Iannuzzi from the Boys and Girls Club of New Rochelle, and Dr. Emily Upshur and Dr. Sarah Bren, who will all discuss the evolving emotional and mental needs of our youth in times of Covid and how parents and community members can provide the best support in our "new normal".
The Pelham Art Center is graciously offering its space for the panelists to present, from which the JLP will livestream the event to all virtual guests. All Pelham community members, as well as community members in surrounding towns, are invited to attend the Community Roundtable and join in on the discussion. For more information, please contact Community Affairs co-chairs Lauren Dunkelberger and Josseth Gordon at publicaffairs@jlpelham.org. Mark your calendars for an exciting event and "see" you then!
Topic: JLP Community Roundtable Time: Oct 2, 2020 07:30 PM Eastern Time
Join Zoom Meeting: https://zoom.us/j/8191641345?pwd=emFhWXFnV0RaK3dNcjRIRGlYUEdvZz09
Meeting ID: 819 164 1345
Passcode: 423902