2022-23 Provisionals Collect Hundreds of Items for Moms in Need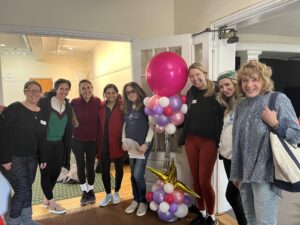 The 2022-2023 JLP provisional class project, a Women's Resource Drive, truly embodied the spirit of Martin Luther King Jr. Day, the national Day of Service.
Not only did the class collect hundreds of items to help mothers in need, they also provided an opportunity for mothers to come together for a morning of connection and wellness.
"We wanted to do something focusing on the postpartum period," said Paula Cardona, who co-chaired the event with Lynda Banfield. "Most of us are moms, and we felt there was a huge need for support in that area."
Women dropping by the Manor Club with donations were able to have a cup of coffee and some snacks; allow their children to play and do some crafts (organized  by Pam Bovyer and Preeti Sinha); and take one of two  phenomenal barre classes led by Danielle Franklin of Pelham's Thrive Barre & Fitness. (Men and dads were welcome, too!)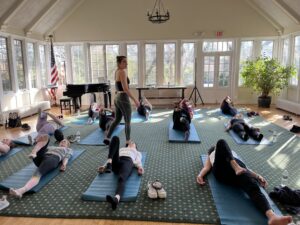 "I had a chance to speak to a few women and one that really stood out was a new mom in Pelham who moved here in October and she said she jumped at the opportunity to come to the event," Cardona said.  "For her it was a great way to meet other moms and to support a good cause."
The class collected:
2,000 diapers
14 boxes of tampons
65 boxes of sanitary pads
8 bags of disposable underwear
2,500 nursing pads
30 packs of baby wipes
200 breast milk pouches
10 bags of baby clothes
3 breast pumps
3 portable cribs
and a wide variety of post partum care items including Frida Kits, ice packs, soap, baby carriers, baby gear, etc.
All donations will benefit women and families who receive services through Giving Friends, Bundles of Joy and Family Services of Westchester. Special thanks to Caffe Ammi, Flour Power & DeCicco & Sons for donating water, coffee, and snacks during the event.