2019 Pelham House & History Tour
Buy your tickets today!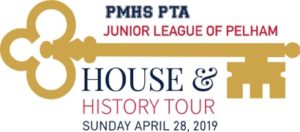 On Sunday, April 28, generous Pelham homeowners will once again open their doors for the Pelham House & History Tour.
As part of the twenty-five year anniversary, the Pelham Memorial High School (PMHS) PTA and the Junior League of Pelham (JLP) have joined forces to reimagine the house tour in a new format that celebrates both the town's beautiful homes and its rich history.
"It's an exciting moment for the PMHS PTA, and more importantly for our community. We are
recognizing the 25th anniversary year of the House Tour tradition to create a town-wide event in
partnership with the Junior League of Pelham that salutes Pelham's history and architectural diversity.
The event will raise needed funds for high school programs and provide support for our teachers. We
couldn't be more thrilled," commented PMHS PTA President, Gayle Potter.
The Pelham House & History Tour will showcase five exceptional homes across The Pelhams, ranging
from contemporary design on the Sound to an 1849 Gothic with a storied past, and plenty in between.
New this year, a self-guided tour of historical and architectural points of interest across Pelham will
complement the house tour. Local businesses, marked with blue and yellow balloons, will also
participate in the celebration with event sponsorship and day-of specials.
"For a quarter century, the PMHS PTA has championed the long-standing tradition of the Pelham House Tour to fundraise for our school system. The Junior League of Pelham is honored to partner with the PMHS and add a new twist on the longstanding tradition," Romina Levy, JLP President said.
In the Fall of 1994, the Pelham House Tour was started by Pelham Memorial High School PTA Presidents Mary Quintin and Maureen O'Brien. "After visiting many house tours in other Westchester towns, I just knew that Pelham could host a similar event showcasing its architectural gems. Our goal was to make the house tour an annual event to benefit the high school and in turn the community," commented Mary Quintin. Since then, nearly 100 homeowners have proudly opened their homes for the tour.
Tickets cost $40 each and are available online, at https://houseandhistorytour2019.eventbrite.com. Proceeds go directly to funding both PMHS and JLP programs, including the upcoming renovation of
Julianne's Playground. The self-guided event will run from 1:00pm to 4:00pm.
Presenting sponsors include Capital Realty NY, J. Philip Real Estate, Joan Solimine Real Estate, Julia B. Fee Sotheby's International Realty, McClellan Sotheby's International Realty, Meridian Risk Management, Stiefvater Real Estate Inc., Art and Catherine Scinta.
For more information, contact PelhamHouseTour2019@gmail.com.